The Digital Present way, UI/UX process – EXPLAINED
The Digital Present way, UI/UX process – EXPLAINED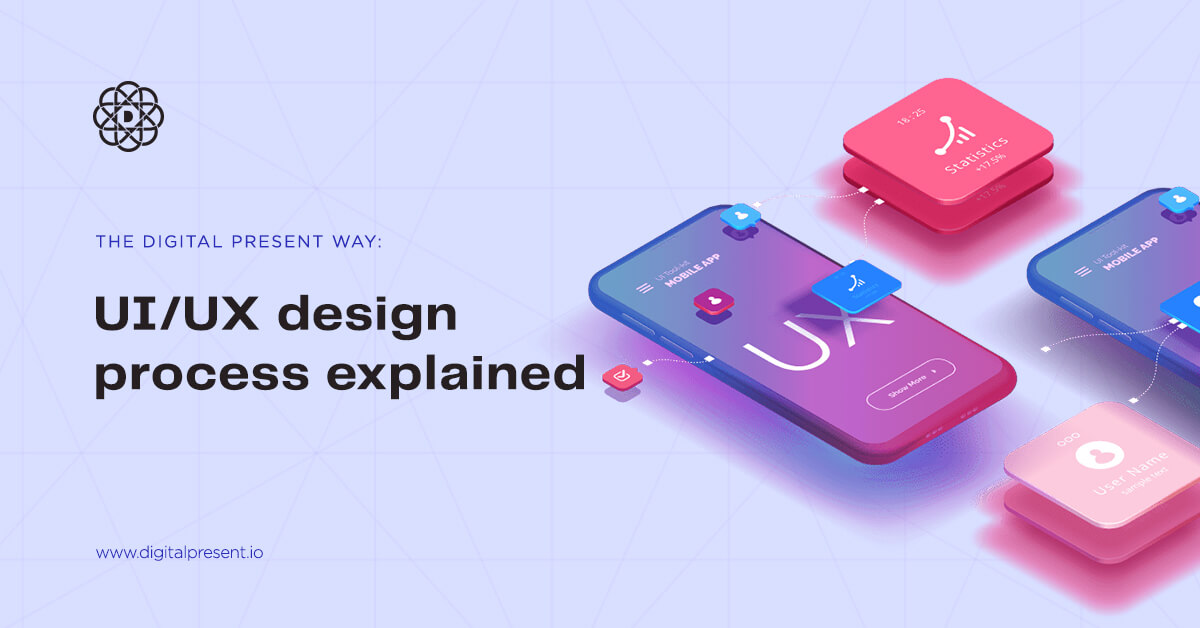 Digital Present has been on the international scene for six years already. During this time, we developed a very successful working system. For our expert, highly competitive team, the clients are a priority. Hence, we established a strong understanding of the client's needs. Our UI/UX design and web development process is constructed to create state-of-the-art solutions. The process consists of eight steps, each important as the next one. So, this is how Digital Present does it:
Step 1: Listening to our client's needs
Fulfilling our client's needs is our primary motivator. Therefore, we believe that every cooperation should begin with a transparent, concise, and honest discussion about the goals and needs of our customers. Corporate communication plays a significant role in the UI/UX design and web development process, and Digital Present is driven by mutual success. We listen carefully, plan detailly, consult expertly, and deliver on time.
Step 2: Industry and competition research 
The second phase of our UX/UX design process is detailed industry and competition research. At Digital Present we want to know what we're facing. Hence, our team explores all weaknesses and opportunities. With Step 2, we get a clear picture of the situation on the market. So, whether we're doing a UI/UX design for platforms, mobile apps, games, or websites, we strive to deliver the best possible solution.
Step 3: Target user personas 
Creating the model user personas is essential for great UI/UX design. User personas help us pave the road to the perfect design. With careful targeting, we determine the ideal users of our products. We observe the users' behavior patterns and work towards solving a real user problem. Thus, our entire UI/UX design process is driven by users' needs and behaviors.  
Step 4: Defining the design system and concept visualization
Defining the design system and concept visualization are critical steps in a good UI/UX design. So, this is where our artists come into play and turn our client's ideas into reality. This step defines the graphic solution for our product by choosing symbols, typography, icons, and colors. This phase will last until the final product is delivered, as it will be the subject of several changes.
Step 5: Creating wireframes
We finally begin the UI/UX design process. We determine how various design elements interact with each other and the user through wireframing. Wireframes are the skeleton of every digital application, used to add functionality and smooth user experience. So, we establish the entire UI/UX design structure in this phase.
Step 6: UI & UX design 
So, we're finally here—the single most important and time-consuming part of the entire journey. UI/UX design is what we do best at Digital Present, and we love it. We built our project on the design system and the wireframe we established earlier. In the UI/UX design process, we determine how a website will function and how the users will interact with it. This step is where User Interface and User Experience meet, all for extraordinary user satisfaction. The better the design is, the easier to use the website will be. Simple as that.
Step 7: Internal usability and A/B testing 
Step six will only bring us to a preliminary design that needs to be tested. So, after the UI/UX design process is finished, we begin usability testing. In this phase, members of Digital Present test the design together with the clients. We collect information and user response in case additional improvements are needed. When all the required data is gathered, we continue toward finalizing the solution.
Step 8: After deployment monitoring 
Digital Present is all about customer satisfaction and after-sales care. Therefore, the final step in our UI/UX design process is monitoring the solution we created after their launch. In this phase, the product is complete and ready to use. So, by monitoring user behavior, our team will determine if the product needs further modifications. 
Feel free to contact us and discuss your UI/UX game if you trust our process!