Five tips for successful client communication
Five tips for successful client communication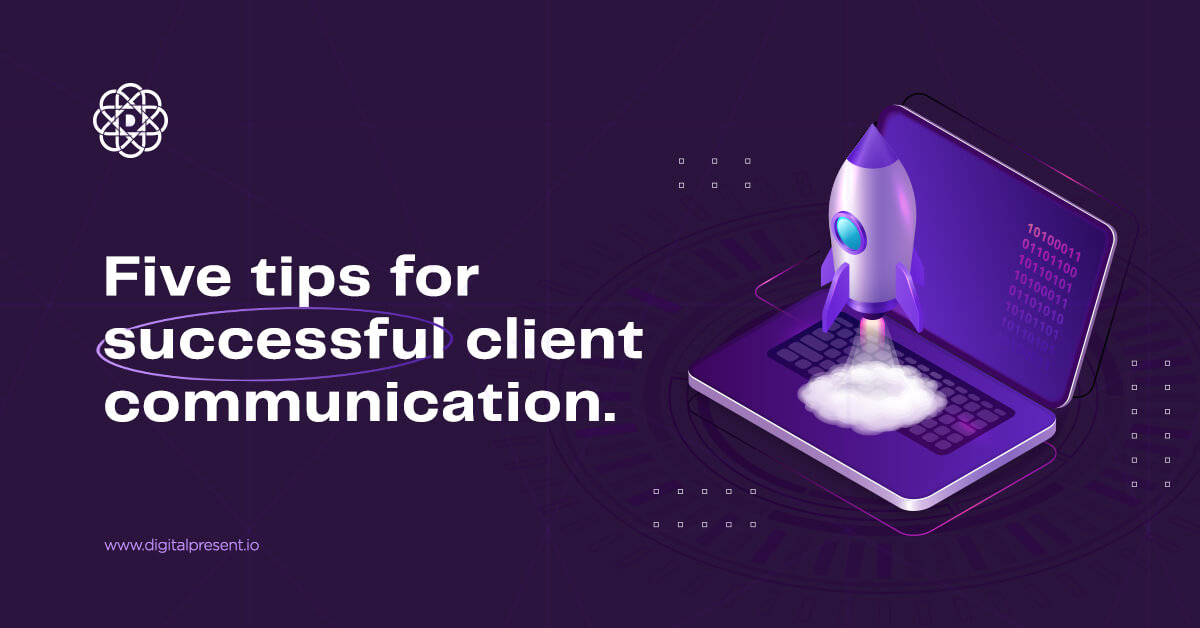 We learn from our experiences and we want to share that with all of you. In this blog, we are elaborating on the five tips for successful client communication. The world of marketing has significantly changed in the last couple of years. Instead of the funnel, we now have the flywheel.
The new marketing concepts focus entirely on the client and the client's needs.  As a modern company, Digital Present follows these newly established principles. Driven by client satisfaction, we have positioned our customers on the highest level of the business podium in their market niche. For the benefit of our business, we have developed a very successful corporate communication strategy. We employ this strategy in our internal and external communique, as we want to learn about our clients and their visions. Our model of corporate communications is based on simple but strict rules. While everybody in Digital Present knows their role, we all work together towards a mutual goal; happy and satisfied clients.
We want to share some of our knowledge with the world. So, without further ado, here are five tips for successful client communication: 
Every relationship requires listening, and so does the one with your clients. So even though sometimes you already have all the answers in your head, be a good listener. First, it will show you're nurturing a politeness strategy. Second, you'll show you care for your clients, which you want to demonstrate strength. 
The difference between the good and the average salesperson, among others, is the knowledge of the company's products. Never go to a meeting before learning everything about your products, services, and what will be the best package for the potential client. Clients like confidence. Show the clients you care for them by explaining how you can help their business with YOUR services. 
Be transparent and straightforward 
Putting yourself on the same page as your clients are essential for good future communication. Therefore, be transparent, honest, and precise in your statements. Set the ground rules at the beginning of the collaboration. Respect deadlines and make no promises you can't keep. The whole idea is to keep the client satisfied, which leads to mutual benefits. And nothing will make a client happier than knowing what's he's paying for. 
Create a communication strategy 
Creating a communication strategy is the first step toward success. Designing an excellent corporate website is where you begin. Then, assign roles and define the tone of the communication. Every member of your team has to represent the company in the same light. Whether it is cold calling, emailing, or meetings, addressing the clients must be unified. When everybody in the company knows what to do, life is much easier. If your clients see you as a whole, your worth in their eyes will only increase. 
Be responsive & success will follow
The new ways of doing business can be pretty time-consuming. However, in a world where everybody has harsh competition, responsiveness is the one trait that will make the difference. Never leave your clients to wait for an email response or a callback. Instead, demonstrate your care and respect by answering inquiries as soon as possible. There's no better way to show appreciation than being as professional as possible. 
Conclusion
The importance of corporate communication is more significant than ever. The perception your potential clients and current clients have of you will determine your future success.

Pay attention to details, even the smallest ones. A great website design can bring many clients. Great UI/UX design, on the other hand, will help you keep those clients.

Digital Present can help you build your corporate communication strategy. Feel free to schedule a free consultation with our specialists. Together, we'll pave your way to success.