We are hiring! Digital Account Manager
We are hiring! Digital Account Manager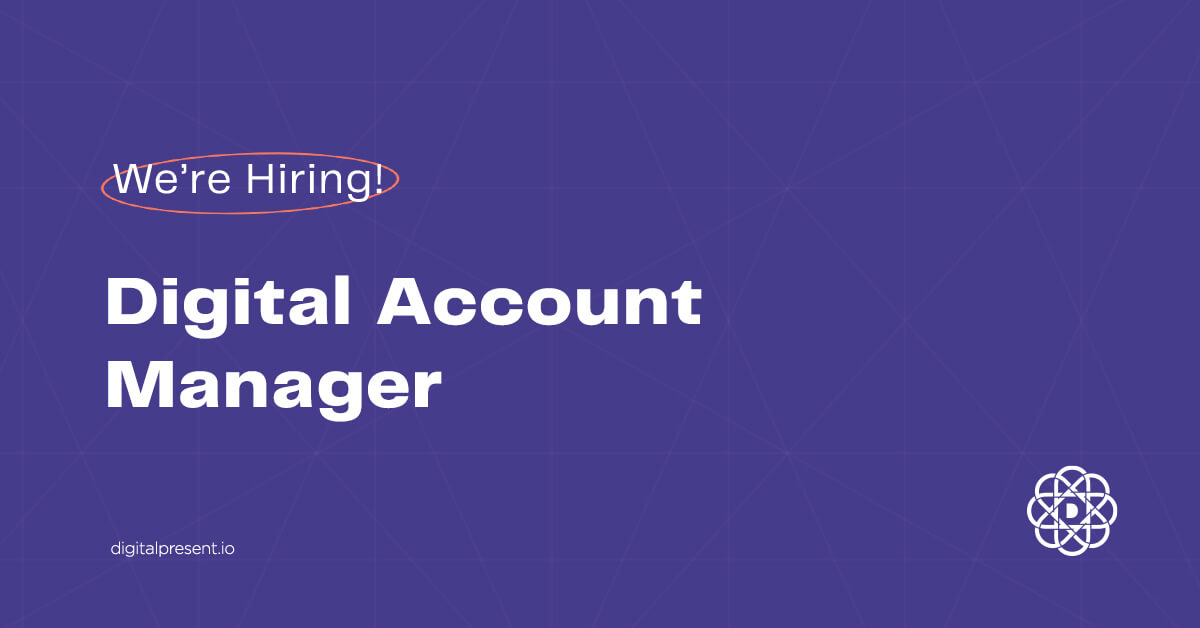 We are seeking a Digital Account Manager to be part of our team. Be part of an organized and creative team, actively participating in all team activities!
As a Digital Account Manager, you would be expected to lead 2 in-house projects, an e-commerce platform and Digital Present itself, and 1 external e-commerce project. The main activities will be managing their websites, social media activities, marketing strategies, and creating audits and KPIs.
Some of their goals include better online presence and impressions, lead generation, or more streamlined marketing and sales processes.
Responsibilities:
Plan, create, and execute an effective marketing plan, by previously received inputs and KPIs.
Create, plan, and optimize content strategy, in collaboration with a content writer, designer, and motion designer
Make discovery calls and meetings
Create website audits in collaboration with the other team members
Manage social and professional media profiles and all of the communication that comes from those channels
Analyze the effectiveness of digital campaigns with various marketing tools
Website maintenance – latest projects updates, blogs, open positions
E-shop maintenance – Products, bundles, sales promotion ( e-commerce)
Manage and optimize all the communication, planning, sourcing, and paid ads campaigns with a previously chosen marketing agency or individuals ( e-commerce projects)
Requirements:
Education: Bachelor's degree, or similar by experience.
Google Analytics knowledge
Minimum 2 years of relevant experience
Excellent knowledge of written and spoken English.
Excellent understanding and knowledge of social media platforms
Exceptional analytical and conceptual-thinking skills
Detail-oriented in a multi-tasking environment
Quick learner, flexible and adaptable.
Excellent planning, organizational, and time management skills
Bonus Points:
Experience with E-commerce online marketing campaigns
Perks and Benefits:
Hybrid working model
Private Health Insurance
Paid holidays
Paid vacation and personal leave
Paid sick leave
Yearly bonuses
Performance bonuses
Happy Tuesday and Friday
Happy Hour(s) Every Month
Flexible working time
Personal development workshops
Business casual work environment
Birthday day off
Volunteer and community activities
Anniversary & core value awards
Professional development
Quarterly company fun events
Paid team extracurricular activities
Employee referral bonuses
Local sports event tickets
Annual kids day
If that sounds like a fit for you, you are our ideal candidate!
Please Send Your CV to: contact@digitalpresent.io
Digital Present as a company
We only work with the best talent. That means we need fewer people and can pay better.
Flexibility
You work independently and manage your own time. Got a dentist's appointment at 10? Not a problem. Your son got sick and you have to pick him up from Kindergarten? Take the day off and focus on tea and cuddling.
You know when to put in extra effort and when you can let it go a bit.
We look out for each other
Your family is more important than any business, even Digital Present.
No business should replace friends or family. Still, if you have troubles, whatever, and we can help, we will.
Friendly Team
Digital Present work is spread all around the globe. From Europe to the US.
That makes us diverse and brings in lots of different perspectives.
We do like each other and try to keep it that way 🙂